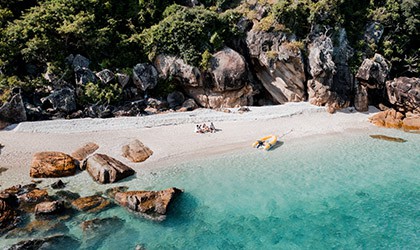 New Itinerary: This Christmas, indulge in a special 14-night expedition on new Coral Geographer that showcases the remarkable diversity of Queensland. Built into your cruise are a private jet excursion deep into the Queensland Outback, and a sailing escape to a postcard-perfect Whitsundays beach. Four days, two landmark events, ten exceptional wines, and two gala dinners.
> Departs 20 December 2021 – Spend Christmas & New Years On Expedition
VIEW ITINERARY & FARES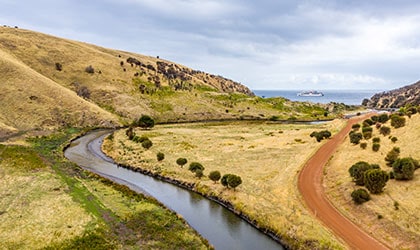 This voyage offers the opportunity to explore and hike South Australia's wild islands, where forested National Parks give way to sheer wave-carved cliffs and sweeping white-sand beaches. Hosted by expert guides, learn about the flora, fauna, and history of these remote island habitats and coastal National Parks. Cool down with an invigorating ocean swim, enjoy kayaking in the turquoise waters, and encounter charismatic native wildlife – inquisitive seals, shorebirds, rock wallabies, and many more.  Along the way, enjoy the tastes of South Australia and indulge in fresh regional seafood and hand-selected local wines.
> Departs 23 December 2021 – Spend Christmas & New Years On Expedition
VIEW ITINERARY & FARES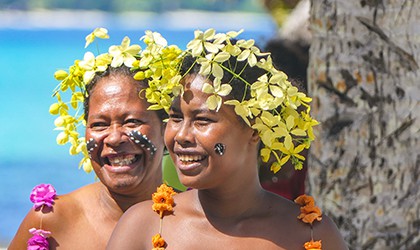 Join Coral Expeditions onboard expedition vessel Coral Adventurer for a 21–night expedition voyage through Papua New Guinea, the Solomon Islands, and Vanuatu. This voyage uncovers the pristine wildlife, fascinating cultures, and remote coral atolls and beaches of the idyllic Melanesia region. You'll experience the Solomon Islands like never before as you are welcomed by the friendly islanders, snorkel or dive in sparkling azure water, and encounter WWII history and breathtaking beauty that will live in your memory forever.
> Departs 16 December 2022 – Spend Christmas & New Years On Expedition
VIEW ITINERARY & FARES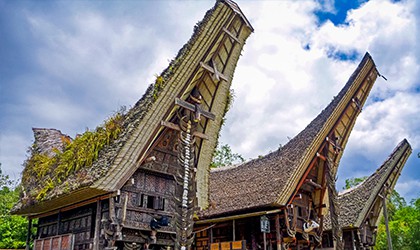 Onboard expedition vessel Coral Geographer.
Join our mailing list to be notified when we release this voyage. Sign-up form at the bottom of this page.
> Departs 13 December 2022 – Spend Christmas On Expedition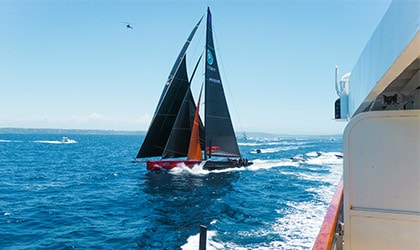 Experience the nautical tradition that is the Sydney to Hobart yacht race! Be part of the action from the start of the race in Sydney, then sail the south coast and Bass Strait to enjoy the scenic Tasmanian coast. On arrival in Hobart, join the festivities of race presentations and New Year's Eve celebrations before disembarking on January 1.
> Departs 26 December 2022– Spend New Years Eve On Expedition
VIEW ITINERARY & FARES