Meet our Executive Chef – Barbara Genedics
Our wonderful and ever-evolving food experience on board is in a great part thanks to our wonderful executive chef Barbara Genedics. In charge of setting menus, training chefs, and setting high standards for our cuisine, Barbara, with the assistance of the Hospitality team, can be credited with improving our processes and standardizing our service quality across the fleet. Barbara shared what it is like to chef at sea and a little of her food philosophy.
How is preparing meals onboard Coral Adventurer different to cooking in a land-based restaurant?
Stocking up the galley of a ship is vastly different from that of a restaurant's kitchen.
All food needs to be ordered and planned properly. You can't just place an emergency call when you are out at sea. Careful planning needs to be made to make sure we have the right amount of ingredients on-board as suppliers do not come to the restaurant's back door every day and you cannot go to the market to discover great seasonal products on a day to day basis. Having Said that we are lucky enough to visit some local markets on our international trips and get fresh exotic produce. Innovation and skills are key traits a chef must have when cooking onboard.
Movement of the Ocean can be challenging and fun at the same time. Equipment and plates can slide from one end of the bench to the other, so we have to make sure that we secure everything in the galley for rough weathers.
The view in our galleys cannot be compared to anything. In a land based restaurant even in the nicest locations, they can't compete with our ever changing scenery that we get to experience from our galley windows.
How do you go about creating menus?
Our Menus are planned and created with keeping the region, season and locally available produce in mind, as well as with an understanding of our guest list. Their preferences and special dietary requirements as allergens or religious restrictions of certain passengers are taken into account too.
Care is taken to ensure that sufficient variety and distinctiveness is added to cater to both, guests looking for familiar comfort food as well as those who want to try something new. Understanding changing trends is key to creating menus.
To what extent do your menu items include locally-sourced produce?
As much as possible. For example, I was just recently planning our new Kimberly Season menu. I have done an extensive research to try and find the best available local produce and exciting ingredients Western Australia has to offer such as native, indigenous spices and herbs. Our suppliers are great at finding local farmers, rare ingredients, and when possible our chefs go offshore to visit local markets too.
Just a couple to mention we do source our Buffalo and Crocodile locally. We also put WA's signature dish Dorper Lamb chops and lupin on our menu this year:
Being the producer of 80% of World's Lupin, and Australia's livestock, it is no surprise that Lamb chops and Lupins were recently voted the signature WA dish. Lupin has been used to feed livestock since ages such that the human consumption began merely ten years back! Recent studies have found that lupins are high in protein and gluten-free, perfect for a healthy diet.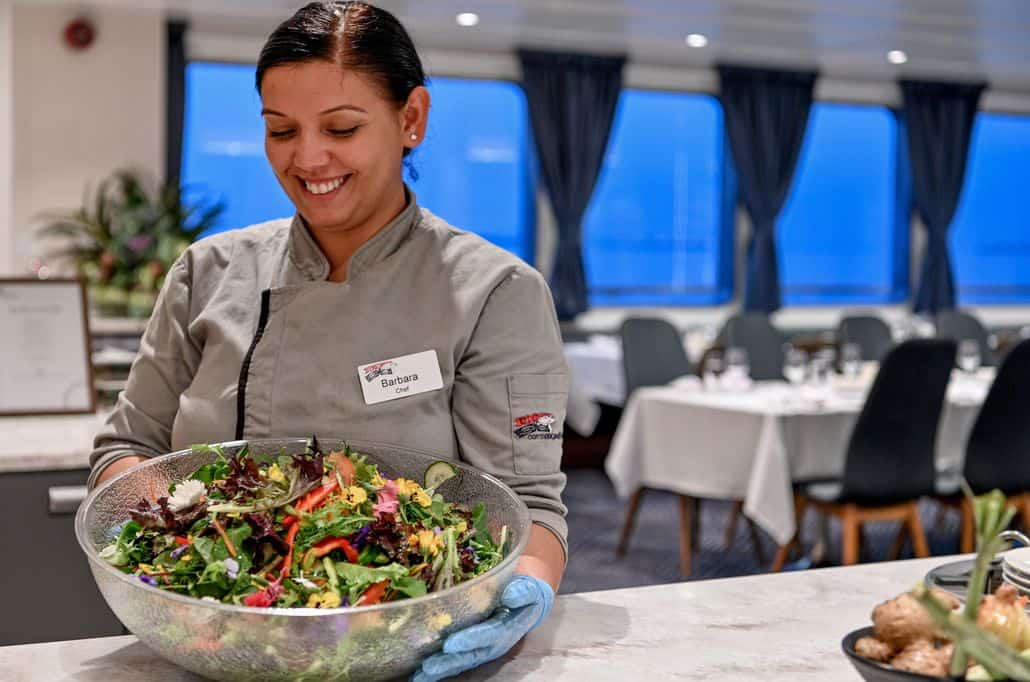 RECIPES
Barbara has been kind enough to share some of her amazing recipes with the Coral Expeditions community. Check them out!

DAINTREE CHOCOLATE FONDANT